Our First Week on National Television
May 30, 2013
James Riley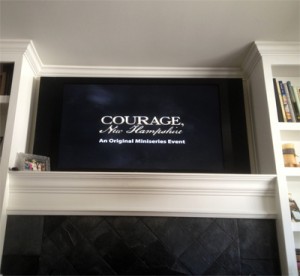 "Courage New Hampshire is some of the smartest TV I've seen in a while!"
"..Really enjoyed the series, wish there were more episodes…"
".. loved it all. Can't wait to see more. I love history and everything about the American Revolution. Can't wait for tomorrow. I won't miss one show. The more I see, the more I like it…"
"..LOVE IT!!!"
"This mini series is really good. I have seen plenty about what happened in the Colonies during the Revolution, but not too many before the Revolution…"
One type of response I didn't anticipate, frankly (and naively), is the reaction of someone settling in on the couch for their nightly dose of "Little House on the Prairie," only to find that their favorite re-run has been replaced by something entirely different. "What is this Courage, New Hampshire!  I don't like it.  I want Michael Landon back!"
Habits are powerful things, and this brought home for me, in a very personal way, why advertisers want people who are willing to try new things.   Usually, this means younger people, people who haven't made up their mind about their breakfast cereal yet, people who don't shout at store clerks if their brand of fabric softener isn't on the shelf.   It can also mean — and don't read too much into this — people with slightly more intelligence and earning power.   (I take that back:  read more into it if you want.)
There's another response that I actually was prepared for, and that's the response of the sniveling, pseudo-bookish living historian.   Your correspondent is a living historian, so I don't want to paint with too broad a brush.  Most of the hobby is full of kind, warm, intelligent people who love history.  When our family visited Colonial Williamsburg in 2004, I was struck by how generously the staff shared their knowledge, and how open they were to people who shared their interest.  (We were all in full 18th century regalia, and the colonial tailor went out of his way to tell my daughter Elizabeth how accurate her clothing resembled a dress that Phillip Fithian had written about in the summer of 1774.)
There are, however, in this hobby a fair number of miserably self-obsessed types who learn history not so much for their own edification, but to lie in wait for any opportunity to show themselves more highly informed.   They pride themselves on busting myths, even if there was no myth to "bust" in the first place.  Actual facts don't need to get in the way either. When my wife was learning 18th century men's tailoring, she proposed covered cloth buttons for a frock coat.   One costumer chuckled, with high condescension, and claimed they "never" used covered buttons.   A day or two later, someone opened the lush pages of Kyoto Costume Institute's collection of 18th century fashion — and there on every page were cloth covered buttons.   In 2000, when Michael A. Bellesiles published a book called Arming America: The Origins of a National Gun Culture, I thought the thesis very strange, given my own research.  Bellesiles argued that very few people really had guns in the colonies, as they were very expensive.   When I questioned his work, one re-enactor claimed that since Bellesiles had the high praise of the Smithsonian and CBS, who was I to question his conclusions?    Within a year, Bellesiles was being called an academic fraud, and eventually he resigned his Emory professorship over allegations of faulty research and misleading conclusions.
Of course, most of the time living historians are a tremendous asset to any period piece, and quite a few major projects couldn't be completed without them, but it doesn't surprise me at all — not one little bit — that we can't please all of them.   If diving into the past is what you like to do, let's face it, no television show or movie can possibly keep up.   If you have ever sat around a re-enactment campfire, or taken dinner in a room full of people dressed in accurate period clothing, there's a level of immersion there that ends up creating very high standards indeed.  If major Hollywood production had to meet the standards of reenactors, the budget would rival America's gross domestic product, and there would still be a lot of fat guys in the militia, because "that's Dexter and his friends and they have been in the unit for years."
While we don't know our Nielsen numbers yet, we do get a fair amount of feedback from Facebook fan pages, and it's both nice, and a bit withering, to read the responses of people who don't know us from Adam.  Lord knows, with respect to television, I am very difficult to please.   I even tell you so here.  Just to see if we were alone in the love-hate fest, I checked a few of the fan pages for other shows, and, yes, this is America, no state television — lots of different styles and takes.
It's part of my education as a national television producer.   Not every family is going to enjoy Jane Austen.  Some folks will be watching "Desperate Housewives" until they have all the "dialogue" memorized.
Next Blog: Painting with Smoke