INSP's New Courage, NH Spot
April 8, 2013
James Riley
INSP Channel's New 60 Second Promotion for Courage, New Hampshire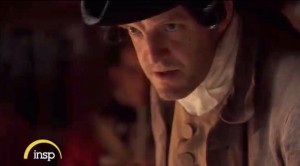 The promotion team at INSP released a new 60 second spot for the national cable debut of Courage, New Hampshire.   Watch it here.  This one is a beauty, hitting all the major themes: family, justice, danger, corruption, triumph.  It's absolutely rapid-fire too, a Courage roller coaster.  Distilled.  80 proof.  Like good spirits, it's meant to share.
I was talking with Wilson about show trailers the other day, and I've come to the conclusion they actually alter the way you watch the show, or the movie itself.  If you see a trailer so compelling you invest in it emotionally, you begin talking about it, you begin anticipating the night you'll sit down to watch it.  It's something like a party or a vacation you're pleasantly anticipating at the end of the work day.   You have already purchased your enjoyment ahead of time, and you come prepared to be pleased.  If you've talked up the show among friends, you're primed to defend it, and this may even shield the show from criticisms it might have received if it were watched "cold," with no build-up.
Over the course of the project, I think we must have conceptualized and executed, easily, two dozen trailers and teasers.   I confess that I like them all, but what I particularly like about the INSP promotions is this:  they get it.   They know the show, and they believe in it.
Huzzah!

Next Blog: "Cutting Room Floor" and What's Next for Courage, New Hampshire?