For You Newcomers to Courage…
June 1, 2013
James Riley
Catching up with Courage, New Hampshire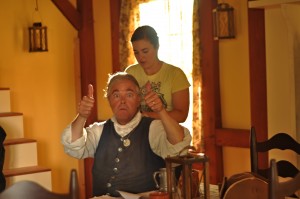 Welcome: This last week brought our show to a national audience on INSP, and the newcomers have questions.  Is this the end?  Will there be more?  Is this a true story?  What happened to __________ ?    One viewer said, and I was flattered by this, "wow, it looks like there's a lot more to this story."  There were a few, God bless 'em, who just missed Little House on the Prairie.  We have a large following among living historians and Revolutionary War Reenactors, and a lot of them want to know when we'll get to bigger battle scenes.
The answers, for dramatic and marketing reasons, can't all be precise, but you can learn a lot about the future of our show by an introduction to it's history:
Our motivation: For more than a decade now, I had a simple sounding goal.  I wanted to produce a show about 18th century America, before the Revolution, that would unfold in a new installment every week.   "Imagine," I thought, "being able to sit down every Thursday night at 9PM and see the sons of liberty gathered around the tavern hearth, be right there during a country dance, watch the militia drill on the green — and be connected to all of this on a human level, not as a student hearing about the historical George Washington, but as a neighbor catching up with the local gossip."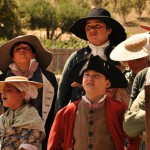 For marketing and packaging reasons, this first national exposure has taken the form of a "mini series," but it's really just the first part of the story.  We very much hope to tell more of it, and if you saw this show on national broadcast cable, you should also know there's more of the story to be seen already produced.   In contemporary television an "hour" show can be as short as 42 minutes, in order to make room for the commercials.   If you would like to stream the full, unabridged versions, or purchase DVDs, you can do so here.
Is this really history? The characters, for the most part, are fictional, but the issues are real.  We dramatize the hated white pine act, the jurisprudence of 1770s New England, the problem of deserting British redcoats.   We felt this was a more honest approach than dramatizing an actual set of historic characters, with the necessary reality of putting words in their mouths.  HBO's John Adams, for all its glory, chose to display John Adams as a starved love klutz, nearly attacking Abigail upon her arrival in Paris.  We wanted to keep it classy and still portray the tone of the times.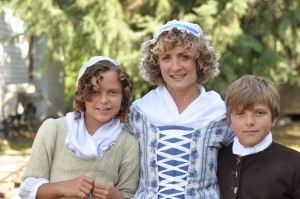 What happened to…  I wrote earlier the goal was "simple sounding."   That's partly true.  We run a living history farm, with lots of locations for shooting,  and a huge period wardrobe.  In practice, however, any good show is a layered effort, the product of many, many talents — art direction, cinematography, acting, writing, direction.   I knew that conventional Hollywood — even in the very unlikely event they agreed to try something like this — would dumb it down and sex it up in a way that would betray the original vision, so we insisted on doing this ourselves.   That meant extremely low budgets, and no long term contracts for the actors.   In a conventional television series, an actor will sign on for at least a season.  We auditioned hundreds of great actors, and assembled a superb cast, but we couldn't guarantee them work, long term.   Each episode has been a herculean expense (for us), so if you see a show without a character you like, well, the reality is that life and art collide sometimes, and actors have obligations too.   We're happy to say that all of our actors are excited about new episodes, so we can answer a lot of plot questions as we go, God willing.  (There really is a divine element to these things.)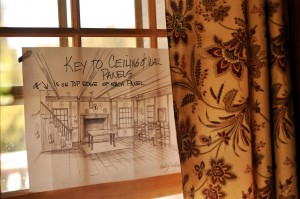 Will there be more episodes?  If we have anything to do with it, the answer is "yes!"  INSP will let us know how our show did in the ratings soon, and certainly good ratings will make the whole process and expense easier to justify, but returning to the phenomenon of the  "Little House" objector — the viewer who just wants to watch vintage American television — INSP has to be sure they will get a better audience trying something new over something old, tried and true.   We're old world capitalists at Colony Bay / Riley's Farm, so we certainly understand that challenge.  We applaud INSP for taking a risk on original scripted, independent, intelligent drama, and we hope the audience rewards it.   In any event, we'll continue to produce "Courage, New Hampshire."  The only question will be: "how quickly," and that's really just a sales/revenue/broadcast partner question.  We have quite a few offers.
Is that it? A few audience members wanted to know more about what happened, largely as a result of the show's narrative convention.  Some episodic television strives to "contain" each story within an episode, so that if a viewer stumbled upon a single chapter, mid-season, they would finish that night's tale with sense of resolution you feel when a feature film concludes.   Our goal was to pull you  onto the next show, resolve a few things, but leave a few threads untied, and so the end of our "mini-series" — though it implied a temporary victory — made lots of folks want more.  That was intended.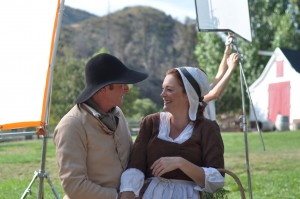 Our project, for television, is about as unconventional as possible.  We had no name mega star — just great actors.  We had no Hollywood script writer — just me.   We had, to begin with, no broadcast partner, just internet video on demand.  We had no financing, just Riley's Farm and some help from our friends.   We've had no marketing budget, just whatever the press was willing to say about us, good or bad.
And yet.. we made it to national television.
With your help, and prayers, we will keep it there.
Next Blog: Our First Week on National Television