The Second Season
August 31, 2013
James Riley
August to December, 1771
"Courage, New Hampshire" is fiction, of course, but we try to base many of the episodic plot points around actual news that took place in New Hampshire and the surrounding New England colonies.   Here's just a glimpse of things taking place in the latter half of 1771, large and small.  If you were on our writing team, what would you do with this timeline?
Historical Background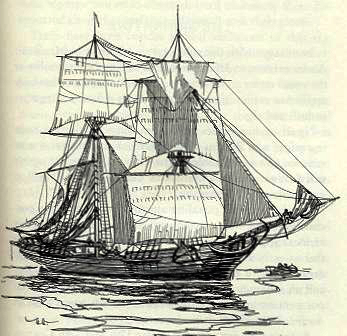 The conclusion of the Regulator rebellion in North Carolina, with the news of death sentences arriving in New England by the end of July, must have given New Hampshire patriots some pause.  Governor Wentworth takes a two week horse ride to Dartmouth for the first graduation ceremony.   According to one account, he and his entourage had a little too much to drink.    A scarlet fever-like illness hits Duxboro, in Massachusetts, killing off entire families.    Portsmouth Tavern keeper John Stavers — angry about new competitors — has a public snit about his stage coach service to Boston.   New York and New Hampshire men get in a fight over Vermont territory.   The building of a Connecticut church kills two as a beam falls to the floor.
The August routine of a country justice of the peace included:  shelling corn;  clearing meadows, planting turnip and flax seed, catching shad, salmon, sitting on general sessions court, (similar to the one that heard Sarah Pine's bastardy trial), sleeping in meadows, making wooden pails, planking  bridges.
In October, a disguised mob boards the Brigantine Resolution, docked in Portsmouth, and frees an impounded cargo of Molasses.   Gov. Wentworth is furious, offers a cash reward.  Mathew Patten and his boys dig potatoes, husk nearly two tons of corn, take it to the mill for grinding.  Mathew Patten devotes entire days to settling small disputes between neighbors.  
The 29th Regiment of Foot, (Bob Wheedle's regiment)  having been previously sent to New Jersey, sets sail to St. Augustine Florida in November of 1771. Matthew Patten bargains for salt, borrows an oxen team, travels to Boston, (interesting), and spends 83£ on the trip.  Back home, he butchers an ox and a pig, (the ox yielded 469 lbs of beef). He celebrates the colony THANKSGIVING day.  In Boston, (November) John Adams' legal associate Benjamin Kent teases Deacon Thurston about Reincarnation. 
In December, hard weather hits New Hampshire.  Matthew Patten gathers wood, takes an estate inventory.  In Portsmouth, Christmas celebrations were getting rowdy enough, finally, to call for restricting legislation.
Next Blog: Watch Carefully