The Life of Riley
March 10, 2015
James Riley
Join the Colony and Watch "The Life of Riley"

Is there anyone over twelve years old in the English speaking world who hasn't heard these words at some point in their life: "they should make a reality show about you?"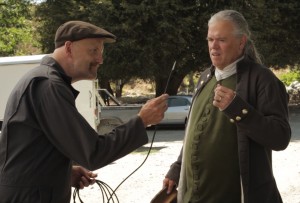 I doubt it.  We certainly hear it a lot.  When you consider our situation here — modern people attempting to re-create, on a California farm, the life of 1776 New England, complete with muskets and redcoats and tavern maids, well, that really is what we do, and it certainly seems to be a candidate for reality, or sitcom, or documentary or something.
The creator of Arrested Development, Mitch Hurwitz, told me as much over breakfast one morning, but he wasn't the first. We've known the family story was worth telling, almost from the first day we put a shovel in the ground.  We had declared it to ourselves: "we're turning the clock back.  We want to live in the past — at least partially in the past, in a big urban area where people will appreciate our living the past, because if you really tried to live in the past, odds are you would be arrested.  Right?"
The Riley's Farm project has always had that comic edge, because turning back the clock is difficult. Someone wants to be an 1840s mountain main, but he's 150 pounds overweight, and he can't make it to the camp without a walker, and he demands certain exceptions to reality.  A "British Redcoat" falls in love with everything English, and in doing his research, he can't understand why the American Revolution even took place.  If the founders had only consulted with him, he could have straightened it all out.  You yourself want to recreate an 18th century tavern, but feeding everyone out of an open hearth fire, um, wow.. it's really difficult, and probably illegal.
Getting back to the past is hard work, but it's something we put our heart into, and, frankly, the entire Riley family has never really liked reality shows as a way of telling our story.  They seem cheap, contrived, and we all decided we would never turn over our lives to an actual Hollywood production team, because we tried a temporary version of it once — and it wasn't pretty.  Reality show producers, to put it bluntly, are liars.  They claim to care about you, but they don't.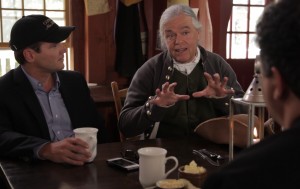 So we told our own story — and it was a lot of work.  We argued about it quite a bit.  We edited and re-edited the script.  We argued about the cuts, and the music, and, well, just about everything. It took us a long time to even agree on the concept, but after two years, we're proud of our pilot, and we think it's the basis for more fun, more laughs, and more celebration of a country we love.
It's true that if you want to see it, you'll have to pay $17.76, but look at it this way:  you get 4 hours of period drama in the package as well, (Courage, New Hampshire) and everything else we produce in the coming year.   We consider our viewers part of our production family, and we need a big family to produce more drama and comedy.
Join the Family.   Join the Colony.   Join the Fun.
Life of Riley — because who says reality is all that great, anyway?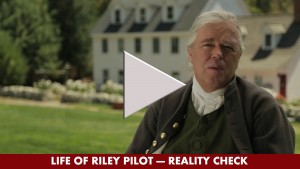 Next Blog: Magic for the Masses